pluriBead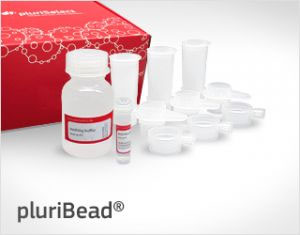 pluriBead® offers a robust cell isolation technology for targets from different biological fluids.
Fast target isolation using pluriBead
Our cell separation technology uses non-magnetic pluriBeads.
Our cell separation method consists of four essential steps.
You need a pure cell or protein population for your experiments?
You like to get your targets fast and want a fuss-free isolation system?
Non-magnetic
No sample preparation
No centrifugation
pluriBeads cannot be taken up by granulocytes
pluriBeads can be easily and completely detached from the targets
pluriBeads work in larger sample volumes, e.g. 45ml whole blood or buffy coat
Purity >95%, viability >95%
Working at room temperature or 37°C reduces cell stress
Application examples for your lab
Single Target Cell Isolation
Simultaneous Isolation of several specific cell types
RNA Isolation
DNA Isolation
Protein Isolation
Cell Activation
Cell Depletion
ELISA
Immunoprecipitation
Download the pluriSelect 2013 Product Catalogue.
Bead size and surface modification
pluriBead® is using non-magnetic monodisperse microparticles for the sorting of cell mixtures. The surface of the beads is modified with antibodies that recognize specific structures on the cell surface. The beads are larger than the cells and enlarge these artificially. The enlargement by the cells allows a simple separation through sieves and the use of different separation strategies.
During incubation, the cells in suspension are marked with the help of the particles. The targets bonded to the surface of the catcher particles are then separated from all unbound cells through our sieving system. Finally, the target cells are gently detached from the catcher particles with a detachment buffer.
The size of pluriBead® allows easy and rapid separation of cells from whole blood or buffy coat. Pretreatment of blood and blood components, such as the production of a mononuclear cell fraction, is not required, ie, PBMC ( peripheral blood mononuclear cells)made by a density gradient / density centrifugation or other methods of depletion of erythrocytes (e.g. erythrolysis) or target concentration is not required. Moreover, the particle size prevents uptake by endocytosis. The microbeads are available in various sizes and surface modifications.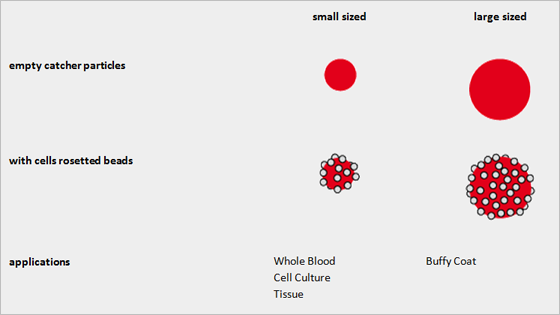 Ready To Go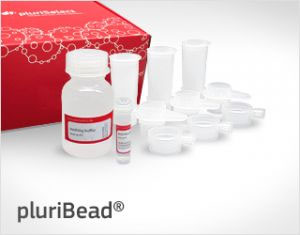 Our pluriBead Kit is ready to go.
That means it includes everything that you need for your cell separation (except your sample material).
Beads
Washing buffer
Strainer
Connecting Ring
Funnel
Comparison of different sorting Beads